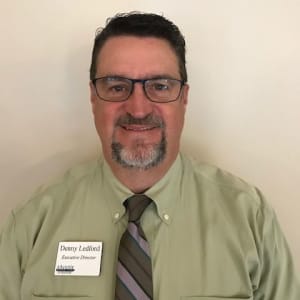 Denny Ledford, Executive Director
I was born here in Fayetteville, and I am a lifelong resident of Arkansas. My Father was diagnosed with Alzheimer's when he was 65 years old and it changed my life, and then I started my career in Long Term Care. I have worked in Long Term Care as a CNA, Social Services Director, and recently a Nursing Home Administrator for the past 10 years. In 2014 I received Administrator of the Year for the state of Arkansas. 
I have a Master's Degree in Human Resources Management and a Bachelor of Science in Agriculture. I was blessed to care for my Father in my Nursing Home for the last 4 years of his life until his passing five years ago.
Teresa Konkler, RN, Director of Health Services
A Registered Nurse and Certified Dementia Practitioner with more than 23 years' experience, Teresa has dedicated much of her career to working with seniors.
She has worked in Skilled Nursing, Orthopedics, and Medical Surgical and has been through many dementia care training programs. Her love for the elderly and her experience in varied fields make her a valuable leader with Avenir.
Courtney Hattabaugh, Director of Sales and Marketing
Courtney graduated from the University of Arkansas Fayetteville with a Bachelor of Science degree in Education, Kinesiology major. She has been working in healthcare for the past 19 years, with experience in Sales and Marketing for Acute Physical Rehabilitation Hospital, Long Term Acute Care Hospital, Wound Care/Wound Vac/Operating Room Sales and DME/Oxygen Sales. Working in the Healthcare field has been her passion and she enjoys helping other people and making their lives better.
Courtney is married with two children, Walker (10) and Townes (7). She lives in Fayetteville, AR and enjoys playing tennis, watching the Razorbacks and the Dallas Cowboys.