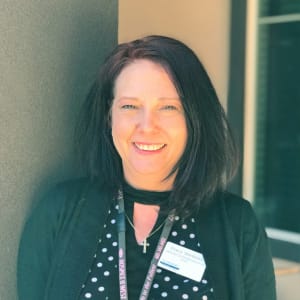 Tracy Simkins - Director of Health Services
Tracy is the Director of Health Services and committing to improving the quality of life of the residents at Scottsdale Memory Care, and being a leader that strives for integrity in care. With more than 20 years' experience in the nursing and Healthcare profession, Tracy has cared for countess patients and dedicates herself personally to betterment of their lives and welfare. She has worked in specialties including Case Management, Wound Care and management of Medical Insurance Procurement and implementation.
As a wife of 30 years and mother, Tracy is committed, loyal, and follows God and her heart.
Kristie Chadwick - Director of Sales and Marketing
Kristie is a Certified Dementia Practitioner, CDP and holds an Assisted Living Facility Managers License in the state of Arizona. In 2009 she took a position as an Activities Director planning events. By creatively involving the residents in leadership roles, sharing their talents and passions with their fellow residents, she increased the resident engagement by 57%. Later her ability to develop interpersonal relationships with new residents and their family members, she found herself drawn to helping families through the decision-making process of placement and into the marketing. It is the process of partnering with the family members in the care of their loved ones that truly is an honor. In the position of Director of Sales and Marketing she has the opportunity to help be part of the solution for families in need of professional recommendations while going through this emotional decision making period.
Finally, her most proud contribution by far is three amazing children. Kristie's oldest daughter recently finished her Master at Cambridge University. She resides in Switzerland contributing as a world expert on Climate Change with the United Nations organization among others. Kristie's oldest son graduated summa cum laude from the W P Carey School of Business at ASU, and is now an entrepreneur in Manhattan. His company's model has a progressive approach to the housing development within large cities. The youngest son shows much talent in Art & Music while also playing Lacrosse, he appears to be a very well-balanced young man.