Rene Simmons, CDP - Director of Sales and Marketing
Rene has over 18 years' experience in healthcare and senior living, with the past 6 years in memory care communities as both a Director of Sales and Marketing and Administrator. Rene has always had a passion for helping those living with dementia and their families.
She holds a degree in Speech-Language Pathology, which helps her to understand the challenges that people living with dementia face. Rene emphasizes to family and caregivers that our goal is to not only to take care of our residents, but to also to support and take care of them.
Rene and her husband, Mike, live in Little Rock and have four teenage children- two in college and two in high school that keep life interesting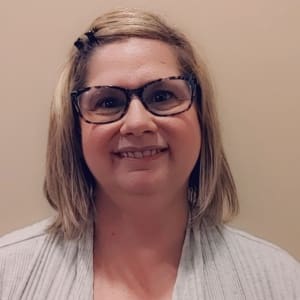 Tammy Coulter - Director of Health Services
I began my career as a C.N.A. as a teenager for 10 years after watching how Alzheimer disease affected my grandmother which in turn.. Made a decision to go back to school where I obtained my LPN at North Arkansas College in Harrison, Arkansas in 2001 with a background in long term care, and geri psych. Decided to go back to school where I obtained my RN at North Arkansas College in Harrison, Arkansas in 2008. Have been Director of Nursing in Harrison, Arkansas at Apple Ridge Health and Rehabilitation for 6 plus years and later Director of Nursing at Creekside in Yellville, Arkansas for 2 years.
Most recently came from North Arkansas Regional Medical Center behavioral health/geri psych and Kindred Home Health as case manager. I have recently located to Benton, Arkansas where I reside with my husband Joe of 10 years and my 3 rescue dogs Marley, Charlie, and Houdini. In addition to having 11 grandchildren. I am very excited about Avenir and feel very privileged to work among such an awesome staff and department heads. I look forward to meeting family members and getting to know our residents and staff members.
Jack Barnes - Executive Director
Born and raised in the state of Pennsylvania, I have been in the senior living industry for over 38 years, serving as a Campus Administrator, Healthcare Administrator, Assisted Living Administrator and Executive Director in multiple states such as North Carolina, Georgia, Florida, Illinois and Arkansas. I have neem married to my lovely wife for over 45 years and we have been blessed with two children, four grandchildren and two beautiful great grandchildren. I find it to be an honor to serve seniors in every state I have worked in and I am particularly looking forward to serving the seniors of Little Rock.